Article: The Best Custom Bridal Dresses for Your Body Type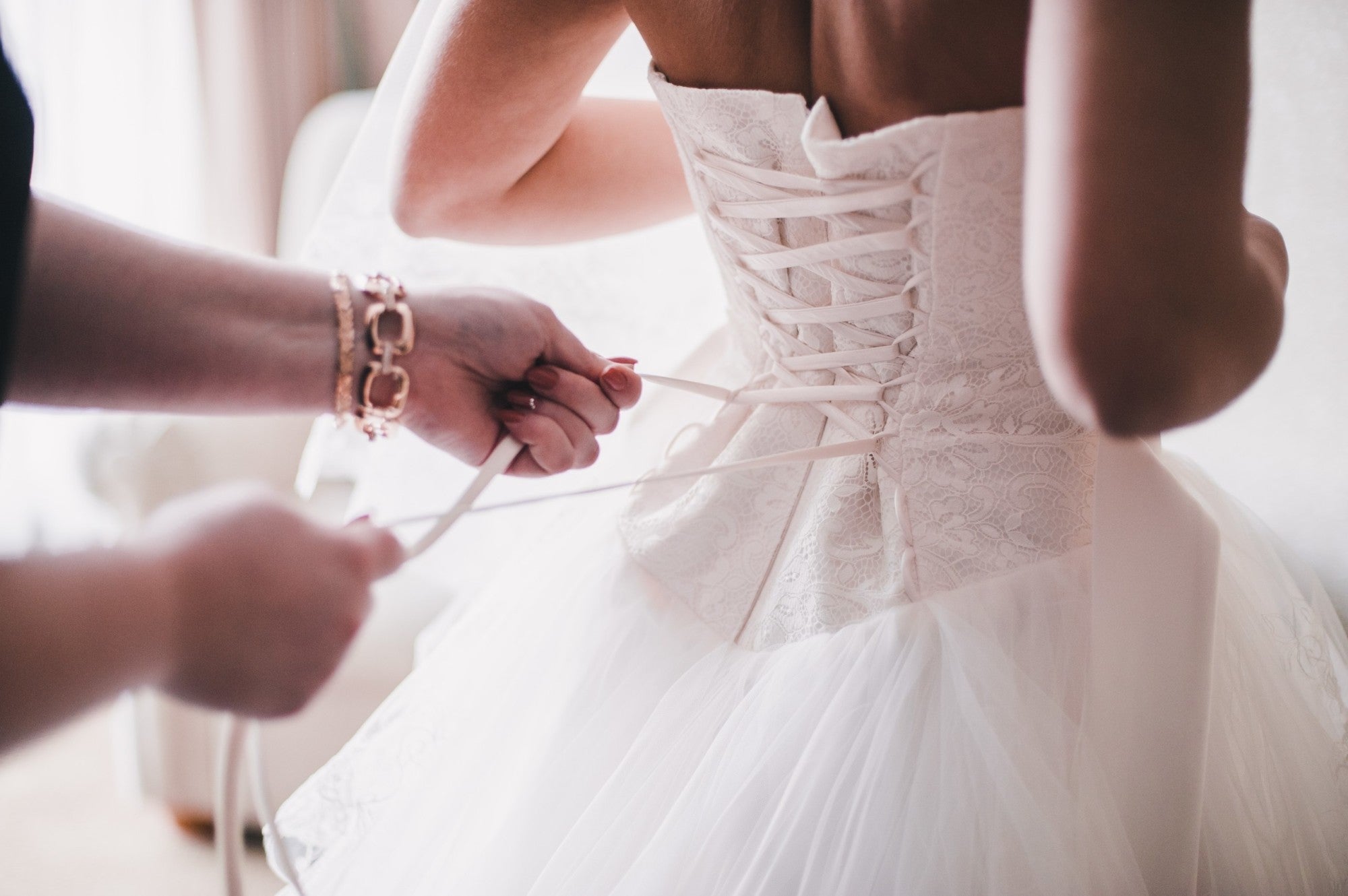 The Best Custom Bridal Dresses for Your Body Type
Table of Contents
Your wedding is the most special day of your life, and your wedding dress may be the most important piece of clothing you ever wear. Getting a custom dress can be a great way to get the dress of your dreams, but where do you start on designing it? How do you even know what style you should wear to suit your body type? There are a few tips and tricks that can help you get a wedding dress that will show off your natural beauty in its best light. Read on to discover styles for custom bridal dresses that will make you feel like the queen you are on your special day.
Measure Your Shoulders
Before you can find the right dress style for your body type, you have to know what your body type is. There aren't just five types of bodies, and almost none of them actually look like fruit. Your body is uniquely beautiful, and you may not be able to fit it neatly into one established type. That being said, 
knowing your measurements
 can give you a better idea of your general proportions and help you decide which dress type is going to be most flattering on your body. Start by measuring your shoulders; you may want to have a friend, partner, or loved one help you with this. You're going to want to measure the widest part of your shoulders, below your collarbone, but above your bust. Make sure the tape is snug around your shoulders, but that you're not pulling it taut as you measure.
Measure Your Bust
Note down your shoulder measurement and then move on to your bust. This is another area where having a friend or loved one around can be helpful, since it can be tough to get the tape measure in the right place across your back. As with your shoulders, you want to measure your bust at its widest point, which is across the tops of your nipples. It's best to wear only a thin shirt and no bra for this purpose, or to wear the bra you're going to wear on the day of your wedding. Wrap the tape measure around your back, keeping it at an even level with the widest part of your bust. It should be tight enough to stay in place, but not so tight that you're pressing in on your chest or back to get the measurement.
Measure Your Waist
With your bust measurement done, you'll keep moving down to your waist. This is a measurement you should be able to get on your own, and, as with your bust measurement, it's best to wear only a light shirt to get this. Better yet, take your shirt off or pull it up to measure just your bare waist for the most accurate results. You're going to want to place the tape measure at your natural waist, right about at the level of your belly button. Make sure the tape measure stays even across your back, and don't tug too tightly. As much as you may be tempted to, don't suck in for this measurement – your body is beautiful just as it is, and you want to get a dress that fits your unique beauty, not some unrealistic version of it.
Measure Your Hips
The last measurement you're going to need to take is your hips. It's best to not wear pants for this measurement or, if you do wear pants, to make sure they're made of a thin fabric, such as yoga pants, leggings, or pajama pants. Wearing blue jeans will give you an inaccurate reading that could compromise your final calculations. Place the tape measure across the widest part of your hips, about halfway down your rear. Wrap around to the front, keeping the tape measure level – around the tops of your thighs. While the tape measure should be snug enough to stay in place, it shouldn't be pressing into your rear.
Determine Your Body Type
With all your measurements done, you can start figuring out how your proportions generally relate to each other. As we said, there aren't just five 
body types
 in the world, but many of us do have proportions that fall into one of these broad categories. People with hourglass figures have shoulders and waists that are smaller than their hips and busts. People with diamond-shaped bodies have wider hips and shoulders, a smaller bust, and a somewhat larger waist. People with triangle figures have narrow shoulders and busts, a mid-sized waist, and wider hips. If you have a straighter frame, your shoulder, bust, waist, and hip measurements will all be approximately the same, although there will be some slight variation. And if you have an inverse triangle figure, your shoulders and bust will be larger, while your waist and hips may be smaller. Remember, your body is unique and beautiful, and there's no one body type that's better than the others. The key is finding a dress shape that shows off your beauty in its best light!
Best for Curvy Figures
If you have a curvy, or hourglass, figure, you're going to want to show off those gorgeous natural curves. The best dresses for your body will tuck in at the waist, highlighting your stunning shape. Whether your dress flares out at the bottom will depend on how much of your assets you want to flaunt. In general, mermaid dresses are a perfect choice for brides with curvy figures. You can also opt for a trumpet or fit-and-flare wedding dress if you want something that hugs to your natural lines a little more. If you want to keep things a little more subtle, opt for a 
ballgown dress
 that tucks in tight at your waist and bust.
Best for Slimmer Figures
If your body has a straighter profile, you're going to want a wedding dress that makes you look tall and willowy. You have a gorgeous airy figure, and you want to highlight that slender figure. There are also ways to highlight your bust and make your curves stand out a little more while showing off your natural lines. Sheath dresses can look amazing on slimmer figures since they'll drape and fall beautifully. If you want to highlight your bust, you may want to opt for a cowl-style neckline that can augment your natural curves. You can also go dramatic with a low v-neck or an open-back style that will highlight the drape of your dress.
Best for Larger Hips
If you fall into the triangle or pear body type, you may want to show off your natural curves without minimizing your bust. The best strategy here is to keep things tight-fitting up top and flowier down below. This works well with your natural shape and brings your hips into harmony with your bust. A-line and ballgown dresses are a popular option with brides who have larger hips. Of course, if you want to show off your assets a little more, you could also go for a dropped waist or mermaid-style dress. If you do this, you may want to opt for something with a little more embellishment up top to balance out your dress.
Best for Smaller Busts
If your body falls into the diamond-shaped category, you may want a dress style that focuses on emphasizing your bust. This can be a great way to draw the eye up and bring the focus to your gorgeous curves. You may also want to opt for deep v-necks or backless dresses that work best on smaller-busted brides. Mermaid and trumpet style dresses are popular among brides with diamond-shaped frames. These bridal dresses fit close through the bust and hips, balancing your proportions and tucking in to highlight your natural waist. You may also prefer to go for a sheath dress, which can tuck in at the waist and keep things flowy on the bottom.
Best for Larger Busts
If your shape is more of an inverted triangle, you want to get a dress that shows off that stunning figure. You want a dress that will be fitted at the top with relatively minimal details. You've already got the works going on up there, so you may want to let that natural beauty speak for itself! You might be surprised to learn that A-line and ballgown dresses can actually work well for inverted triangle shapes, as well as triangle body types. The fitted bodice and flowy skirt balance out your natural curves and keep the attention on your best features. You can also go for a 
mermaid dress
 or a drop-waist style for a curvier look.
Best for Taller Brides
It's hard to make recommendations for what sort of wedding dress you should get based on height alone. Of course, bodies come in all shapes and sizes, and you can see any of the body types we've discussed here on people of any height. That being said, there are a few rules of thumb that can help taller brides look and feel their best on their special day. Sheath dresses can look absolutely stunning on taller brides, since they can drape for miles down your legs. Mermaid dresses can also be a great way to accentuate your height while still adding a little flare to your dress. And either of these silhouettes looks amazing with flats if you don't want to add extra height on your wedding day.
Best for Shorter Brides
If you're on the shorter side, again, your dress decision may depend mostly on your proportions. But there are a few styles that can help to elongate your frame and make you 
look taller
. This can be especially important if you don't want to wear heels that are going to kill your feet on your wedding day. A-line gowns can be a great choice for shorter brides, since they tend to exaggerate the length of your frame. Trumpet gowns can also be great for this, since they draw the eye further down before moving into the flare of the skirt. You might want to opt for a v-back or open back, since this can also make your torso look longer.
Best for Athletic Builds
If you're the sort of bride who prides herself on 
staying in shape
, you want a wedding dress that shows off the body you've worked so hard to build. Sleeveless dresses may be a great choice for you so you can show off your toned arms. You may also want to look for a skirt with a slit if you're proud of your leg tone. Of course, mermaid dresses are a great choice for athletic brides, since they show off all your curves. Trumpet dresses can have the same effect and work well with a slit up the side. And if you're looking for something that will balance out your toned upper body, an A-line skirt can do the trick.
Making Your Dress Your Own
Of course, one of the biggest advantages of getting 
custom wedding dresses
 is that you can make your dress whatever you want it to be. Not only will it be custom-tailored to fit your unique body, but you can combine elements from different dress styles. Whatever you need to feel beautiful on your special day can become a reality.
Discover the Beauty of Custom Bridal Dresses
Custom bridal dresses can be a fantastic way to get the perfect dress style for your body type. You may want to start this process by taking your measurements and figuring out which body type you most closely fit into. From there, think about what you want to show off, what you want to draw attention away from, and where you'd like to balance out your look. If you'd like to find the best custom bridal dresses, check out the rest of our site at Bella Luna Gowns. We provide genuine couture made by women, for women, using exquisite hand beading and custom tailoring. 
Shop our bridal collection
 today and start feeling like the princess you are.