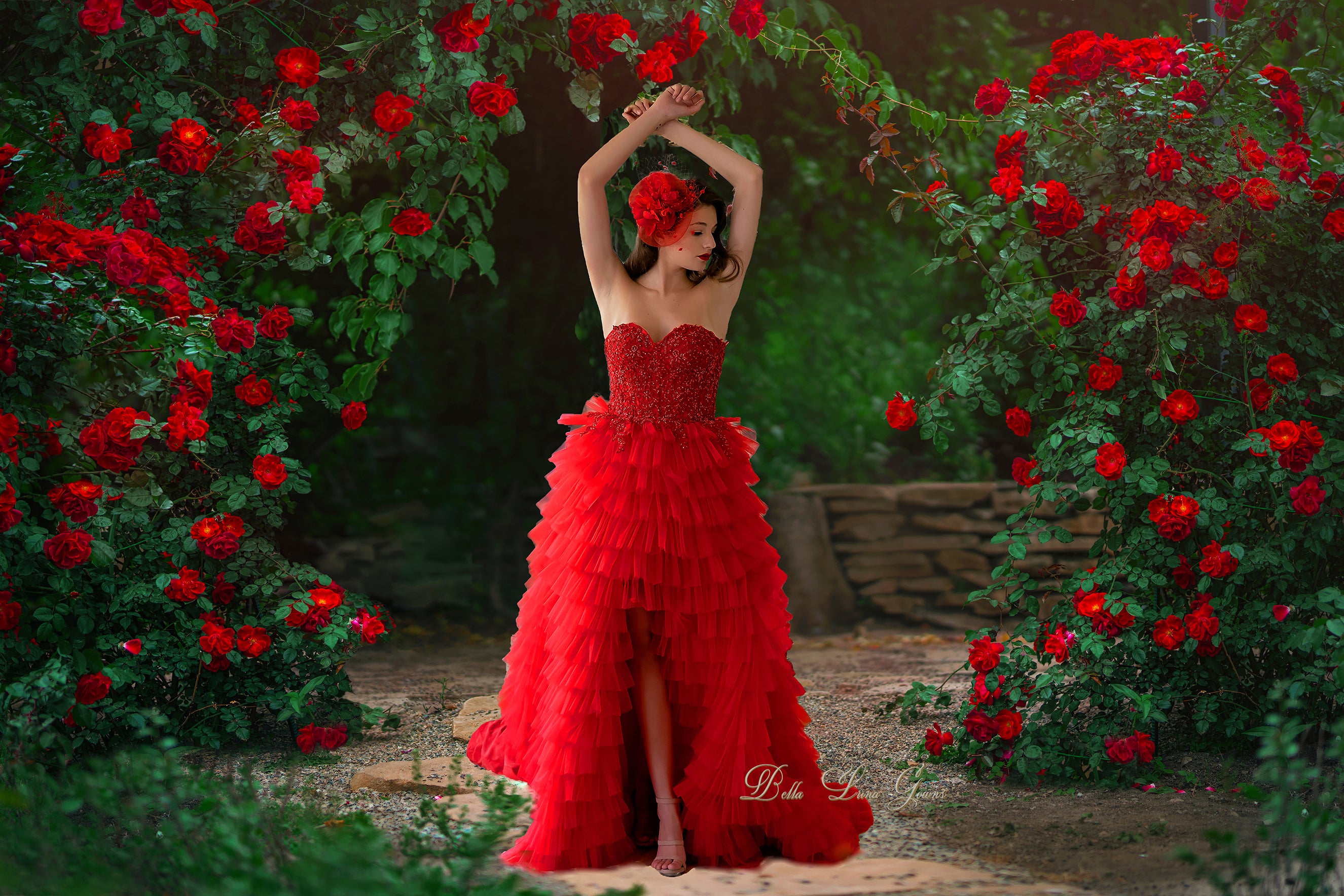 How Custom Couture Prom Dresses Stand Out From the Crowd
Spring is in the air, and for many high schoolers, that means one thing: prom season.
You may have been dreaming about going to prom for years, and now that it's finally here, you know you have to find the perfect dress. But how do you make sure your dress will be everything you've always dreamed of?
Custom couture prom dresses can be a great way to make sure this night is the fairy tale you want it to be. Read on to learn more about these dresses and why you should consider one for your prom this year.
Avoid Long Shopping Expeditions
One of the most exhausting parts of prom season is shopping for your dress. You may spend weeks combing catalogs, scrolling through Pinterest, and looking for online stores that have the dress of your dreams. Then you have to go to store after store, try on dozens of dresses, and, depending on where you live, drive a long way to get to stores that have the dress options you need. 
Getting a custom couture prom dress can help you avoid those long hours of combing through racks looking for the perfect dress. From the start, you can work with your dress designer to create the perfect gown for you. Instead, you can devote that time to planning the perfect prom night with your friends! 
Get Your Dream Dress 
Your prom dress is probably among the top five most important outfits you'll wear in your life. Many of us spend months or years dreaming about what we want our prom to be like, and that daydream starts with having the perfect dress. But finding your perfect dress on the rack can be difficult or impossible. 
When you get your dress custom-made, you can make sure every detail is perfect. From the fabric to the embellishments to the color and more, your dress will be exactly what you dreamed of. And, as we'll discuss more later, you can be certain no one else at the prom will have the same dress as you! 
You Can Get the Perfect Color 
Picking the right color for your prom dress is one of the most important decisions you'll make in this process. For one thing, you have to find a color that works well with your skin tone and that fits your style. You may also want to coordinate colors with the other people in your party or even base your color on an accessory you want to wear.
Finding the right dress in the right color on the rack can be impossible since many styles only come in one color. But with a couture dress, you don't have to decide which one you want to compromise on. You may even be able to get your fabric custom-dyed so you get the perfect prom dress of your dreams. 
You Can Pick Ideal Fabrics 
Aside from color, your fabric choice for your prom dress will make an enormous difference in how your dress looks and feels. Do you want the glossy elegance of satin and silk or the soft dreaminess of tulle and chiffon? Do you want to add accents of sequins and lace, or do you want a rich velvet that will make you feel like a queen? 
Off-the-rack dresses are often very limited in their fabric choices, and even if you can find a dress in the right color and style, the fabric may not be what you want. Custom dresses give you access to a much wider range of fabrics. You can mix and match if you like or stick to one fabric all the way through to keep the attention where it should be – on you. 
You Can Tweak Your Dream Style 
You probably already know what style of dress you want your prom dress to be. You may like the drama of A-line gowns, the curves of a mermaid gown, or the sleek elegance of a column. You might want to feel like royalty in your princess dress or you want the subtle flare of a trumpet cut. 
As amazing as all of these styles are, you may have some things you want to change about your ideal style. You might want to drop the waist a little on your A-line or add a slit to your column dress. A custom couture dress gives you the freedom to make your dream style your own and your prom dress absolutely perfect. 
You Can Mimic Your Favorite Looks
When you're trying to decide what you want your prom dress to look like, chances are you spend a lot of time looking at your fashion heroes. You may comb the annals of the Met Gala or other red-carpet events. Or maybe you've pinned photoshoots from your favorite designers, celebrities, and influencers who have gowns you'd kill to wear.
Luckily for you, those dreams can become a reality when you get your prom dress custom-made. You can recreate some of your favorite looks in a dress made for your body. What could be better than going to prom in a dress you've been in love with since the first time you saw it go down the red carpet?
It Will Fit Your Body
One of the biggest downsides of off-the-rack clothing of any description is that it's just not made to fit your body. Every body is different, and trying to pick the right size can seem impossible, depending on your proportions. If you get a dress that fits in the bust, it may be too big in the waist, or a dress that fits your torso right may hang well past your feet and drape on the floor. 
When you order a custom couture dress, you can be sure that it's going to fit you to a tee. Your seamstress will take measurements of your body and tailor your gown to fit you perfectly. Not only does this eliminate the hassle of trying to find the right size, but your dress will look far better on you since it was made for you.
It Will Be the Perfect Length
On the subject of getting your dress to fit, getting the right length is a struggle almost everyone faces at prom. Shorter girls will find that floor-length dresses drag the ground around their feet and knee-length dresses come to their mid-calf. Taller girls may have trouble finding a dress that reaches the floor or may feel exposed in shorter styles that don't come down as far as they'd like.
While you can hem some dresses relatively easily, other styles are much more difficult, if not impossible. But you can be sure that your custom couture dress will be the perfect length, no matter what style it is. You can even bring your shoes to fittings for a longer dress to be sure your dress will be flawless on prom night. 
It's One-of-a-Kind
The worst nightmare for any girl on prom night is showing up to the dance and discovering that someone else is wearing the same dress as her. You want your dress to be as special and unique as you are. It ruins that magical moment of feeling like a princess if another girl is having the exact same moment five feet away. 
When you opt for a custom prom dress, you don't have to worry about anyone else in your school showing up in the same gown. In fact, no one in the world will have the same prom dress as you. You'll get to wear a one-of-a-kind masterpiece to your prom, and you'll have all the magic of knowing you're wearing a dress crafted just for you.
You Can Add Meaningful Elements 
One great way to make your prom dress more personal is to add meaningful elements to it. Maybe you have an old brooch or piece of jewelry from a loved one, or maybe you want to sew a piece of your dad's old shirt into the lining. Maybe you and your date want to do a themed outfit or you want to add a tribute to your favorite hobby or sport.
Adding these meaningful elements to your dress can make it feel like so much more than just a gown. Unfortunately, this may not be possible with off-the-rack dresses, especially depending on the element you want to add. A custom dress can be anything you dream of and can allow you to add these elements in the most beautiful way possible. 
You Can Wear It Again
One of the saddest things about prom dresses is that, for the most part, they get worn once and then never touched again. Unless you're involved in cotillion or other social groups, you may never have another opportunity to wear your beautiful dress. You spend all this time and money finding the perfect dress, only for it to spend its life hanging untouched in a closet.
If you get a custom prom dress, you may be able to wear it again. For one thing, your seamstress may be able to add more fabric so that as you get older and your body changes, you can have your dress altered to fit. You can also opt for a style that's a little more adaptable to other fancy dress situations.
Get Better Quality Fabric
We talked earlier about the wider variety of fabrics you'll have access to when you buy a custom prom dress. But did you know you'll also be able to use higher-quality fabrics? If you're interested in keeping your prom dress and wearing it again in the future, getting the best-quality fabric will be critical. 
Many off-the-rack dresses use the lowest quality fabric they can get away with to save money and maximize profit. But this fabric can tear easily, doesn't feel or look as nice, and will wear out more quickly. When you get a custom dress, you can choose a higher-quality fabric that will look and feel amazing for years to come. 
Support Small Businesses
These days, many of us are more conscious of where our money goes and what it helps to support. Buying dresses off the rack puts money in the pockets of big corporations, rather than small businesses. In some cases, these dresses may even be made by exploited workers overseas who earn only a few pennies a day.
Buying a custom couture prom dress often helps to support small business owners. Many of these seamstresses are individuals working to make their creative passions a strong business. Your money will go towards making those dreams come true and supporting your local economy.
Improve Your Environmental Impact
The other major downside of off-the-rack dresses is that they can have a serious impact on the environment. The textile industry is one of the biggest sources of pollution in our world. Clothing manufacturers dump billions of gallons of chemical waste from the dyeing process, clear-cut acres of land to grow cotton, and put tons of fumes into the atmosphere every year.
When you buy a prom dress off the rack, your dress likely contributed to this damage to our planet. But working with smaller couture companies can reduce that environmental impact. You can choose fabrics that are sustainably sourced and rest assured that your dress uses no more resources than it takes to run a sewing machine.
Discover the Beauty of Couture Prom Dresses
Prom is one of the most exciting nights of your life, and you want your dress to be perfect. Buying a custom couture prom dress can be a great way to get the dress of your dreams. You'll have a one-of-a-kind masterpiece in the exact color and design you want, and you can feel good knowing it's helping your community and the planet. 
If you'd like to discover the beauty of couture prom dresses for yourself, check out the rest of our site at Bella Luna Gowns. We provide world-class custom couture gowns for girls who want the very best. Shop our gown collections today and start getting the princess experience you've always dreamed of.