Top 12 Benefits of Buying Custom Dresses
Did you know that custom-tailored clothing dates back to the middle ages? In fact, tailored clothing was the norm until only recently. With the advent of clothing factories, custom dresses and clothing became more of an anomaly, and something reserved for the rich and famous. 
This is unfortunate because custom couture has a range of benefits. When you buy custom dresses, they are made for you and no one else. They look amazing, fit perfectly, and make you look incredible because they've been specifically designed with your body and features in mind. 
What's more, custom dresses can be far less expensive than you think, if you know where to look. 
Are you considering getting a custom dress made, but aren't sure it's worth it? Read on for 12 reasons why you won't regret getting a custom dress made.
1. Custom Dresses Fit You Like They Were Made For You
One of the benefits of custom clothes is they fit you like they were made for you... Because they are!
Like we said above, tailored clothes used to be the norm. Nowadays, we're expected to fit into clothing, rather than clothes fitting to our unique proportions. 
Mass-made clothing will never fit the way a custom piece will. Because of this, custom clothes are far more comfortable than off-the-rack options. 
Have you ever had an item of clothing that just fits you like a glove? Like it was specially made for you? If so, this piece was probably one of your favorites, it was supremely comfortable—no matter how fitted the cut—and you wore it all the time. 
This is how custom dresses feel. 
Another advantage of custom clothes is that you don't have to worry about the things you usually struggle with when buying production line clothing.
Do you have beautiful long legs? A long torso? Or a chest that's skinnier or broader than most people's?
Maybe you have very narrow shoulders, or, relatively broad shoulders?
No matter where you fall in the range of body types and frames, shopping for clothes can be frustrating and disheartening. It can also trigger anxiety around your body type. 
Your broader shoulders might be something that's striking and attractive, but every time you squeeze into an ill-fitting dress you probably curse them and wish your shoulders were like everyone else's. 
This is not something wrong with your body, it's something wrong with the clothing! 
Anytime a clothing piece doesn't fit you well it's because the item isn't tailored to your unique and special form, not the other way around. 
2. Custom Dresses Are More Flattering
The best dresses are the ones that fit you perfectly. 
Because custom clothes are designed to fit your specific body, they are more flattering. Have you ever seen someone in a dress, jacket, shirt, or skirt that obviously didn't fit them? It's not a good look.
Even slight fit issues can instantly make a dress or other garment look unflattering. Too tight and it will expose every area you want to smooth out. Too loose, and it can look like you're a small child playing dress-up in your mom's clothes. 
Everyone has slightly different dimensions, and custom clothing takes this into account. As a result, you get a piece that is perfectly fitted to your frame and infinitely more flattering than a factory-made piece. 
This is one of the reasons why 49% of Americans are willing to pay more for better fitting, customized apparel. 
Besides being better fitting, custom dresses are also more flattering because their design elements can be tailored to what suits you. Instead of being lumped with a dress that is sort of what you want, but has a few unflattering elements, you can customize things to suit your face and body. 
For instance, some people look better in high necklines and collars. A lot of prom dresses and party dresses have low-cut, swooping necklines. It can be hard to find the right skirt cut, color, and neckline all in one dress when shopping off the rails. 
With custom dresses, you have control over these elements. This allows you to create a dress that is exactly what you want and perfect for your body shape and personal features.
3. You Don't Have to Worry About Last Minute Alterations
If you're hunting for a special dress, the last thing you need to worry about is last-minute, emergency alterations. 
You want to receive your dress, fit it on, and for everything to be perfect. You don't want to be running to a tailor at the eleventh hour begging them to take up a hem in time for the big day. 
With custom dresses, you don't need to worry about this. Once the designer or seamstress has your measurements, you can rest assured that the dress will fit you. If a mistake occurs with the sewing, the ball is in their court to get it rectified before your event.
This can reduce a lot of unnecessary stress. What's more, alterations to custom clothes are usually a lot more seamless. With factory-made clothing, it can sometimes be hard to executive alterations. Custom-made clothing is already tailored specifically to you. 
If there are a few millimeters of fabric that have to be taken in or let out here and there, this won't affect the overall design of the garment. 
4. You Can Combine Your Favorite Gown Style, Color, and Fabric Selection
A further advantage of custom dresses is you can combine all of your favorite elements into one gown. 
If you shop in-store, it can be very hard to find the style of dress you want, in the right color, and in the type of fabric you want. 
Fortunately, this isn't the case when you order a custom dress. You will be able to select the style, as well as the color. In some cases, you can also specify the fabric, as long as it's still suitable for the dress style. 
You may also be able to select specific embellishments and detailing. 
This allows you to create the dress of your dreams rather than settling for something off a hanger that's not quite what you had in mind.
5. You'll Get Expert Advice
Besides getting exactly what you want, you can also get access to expert advice. if you're not sure what gown style to choose, or what color or fabric, a custom seamstress or designer will be able to guide you and present you with the best options. 
This can help you get clarity on what you want and want will look best on you. 
6. Custom Dresses Are Better Quality
Another pro to custom dresses is that they are almost always far higher quality than factory-made designs. 
A lot more care is used over custom clothing. The whole process is overseen. What's more, custom dressmakers are far less likely to cut corners than sweatshops. 
Custom clothing often features high-quality construction elements such as French seams, high-grade fabrics, linings, trims, and good-quality buttons and zippers. 
All of these things work together to create a garment that will both stand the test of time and look luxurious while doing so. A customer-made dress will hardly even be see-through, bunched, or badly stitched. 
7. You'll Never Bump Into Someone Wearing the Same Dress
Want to know another benefit of custom couture? You'll never end up in a room with someone wearing the same dress as you.
This is probably most girls' worst nightmare. You want to feel and look special at a big event, and instead, you spot someone wearing a literal carbon copy of your dress. Depending on the event, it can ruin the occasion for you and make you feel like you can't wait to get out of the room. 
With custom dresses, you'll never have to endure this embarrassing situation. Instead, you can rest assured that your dress is 100% unique. 
8. You Have the Freedom to Truly Express Yourself
Besides protecting you from any embarrassing doppelgänger scenarios, custom dresses also allow you to truly express yourself. 
Most of the best dresses seen at famous events have a story and a meaning behind them. This is one of the things that makes custom couture so special. 
Think of the last few Met Galas and the dresses that graced its red carpets. The best dress was usually one that had a story to tell and intentionality behind its design. 
If you are shopping for a prom dress, you might not go the length and expense that Met Gala gowns involve. However, you still want to make your girl's day special and find her the best dress you can. 
Dresses for girls tend to follow the latest fashion trends. Because of this, it can be hard to find a dress that truly speaks to your beautiful girl's personality and tastes.
Custom dresses allow you to truly create a one-of-a-kind gown that speaks to the person who is wearing it. 
Being able to express oneself through customized clothing is becoming increasingly sought after and important. Statistics show that 26% of US consumers have personalized a product. 
9. Custom Dresses Can Be More Affordable Than You Think
Custom clothing can be very expensive, but this doesn't hold true for all custom options. If you know where to shop, custom dresses can be far more affordable than you think. 
For instance, here at Bella Luna Gowns, we are able to offer custom prom dresses and special occasion dresses for a very affordable price. 
We believe that every girl or woman should be able to feel like a princess on her special occasion. That is why we have tailored our process so that we can offer custom dresses at prices you can afford, while not cutting down on quality or service. 
By picking from our selection of dress collections, you can choose the perfect style. From here, we will then ensure that your gown is made to custom measurements from the highest quality materials. 
Through this, we are able to offer custom couture are unbeatable prices. 
10. Custom Dresses Can Help You Save Time
Are you strapped for time? If so, we can help. 
Like we said earlier, shopping for custom dresses can take time. Visiting multiple outlets, browsing online stores, ordering, and potentially placing returns can take a lot of time. 
If a dress doesn't fit right, the only option is to return it and start afresh. 
Opting for a custom dress allows you to cut down on shopping and try-on time. 
Custom dresses do require some lead time for production, but this isn't your time. Once you have ordered the perfect dress, you can sit back until it's completed.
11. You Get the Chance to Support Small Businesses 
Another perk of ordering a custom wedding, special occasion, or prom dress is that you'll have the opportunity to support smaller businesses. 
Supporting small businesses can be tough, especially in the fashion industry where most clothing options come from big-box retailers. If you're passionate about supporting small businesses, ordering a customer dress from a place like Bella Luna Gowns is the way to go. 
12. Custom Dresses Are the Opposite of Fast Fashion
Thanks to its chronic negative effects on the earth, fast fashion is quickly making a name for itself as an unethical system that's significantly affecting the planet. 
While clothing sales are climbing, the amount of times clothing is worn is plummeting. At the same time, the fast fashion industry produces more CO2 than flight and maritime transport combined. 
If you want to help stall fast fashion in its tracks, one of the best ways is to opt for pieces with more longevity and meaning, such as custom clothing items. 
Bella Luna Provides Beautiful, Affordable, High-Quality Custom Dresses
Custom dresses have a range of benefits. Not only do they fit better, and are more comfortable, but they also look incredible thanks to their tailoring. 
Besides this, custom dresses can be more affordable than you think. 
Here at Bella Luna Gowns, one of our passions is providing high-quality custom dresses at affordable prices. We believe that everybody should be able to feel like the main character on their big day, which is why our collections offer Disney-like designs. 
Looking for a reduced price? Shop our sale collection now!
Alternatively, maybe you have questions about our design process? Not sure where to start? Contact us and we'll be happy to help.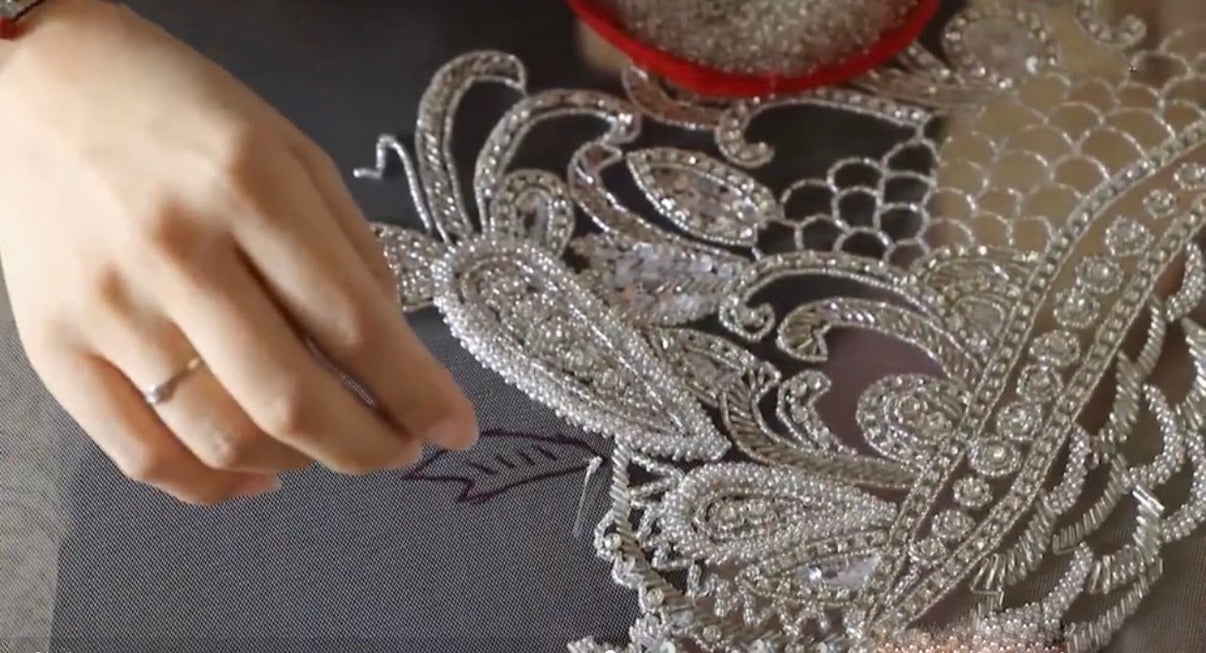 What Makes Custom Coutures Special?
The fashion industry is heavily influenced with "ready-to-wear" or "off the rack" clothing. These clothings are mass-produced to make fashion more affordable for many. But what it also has done is...
Read more