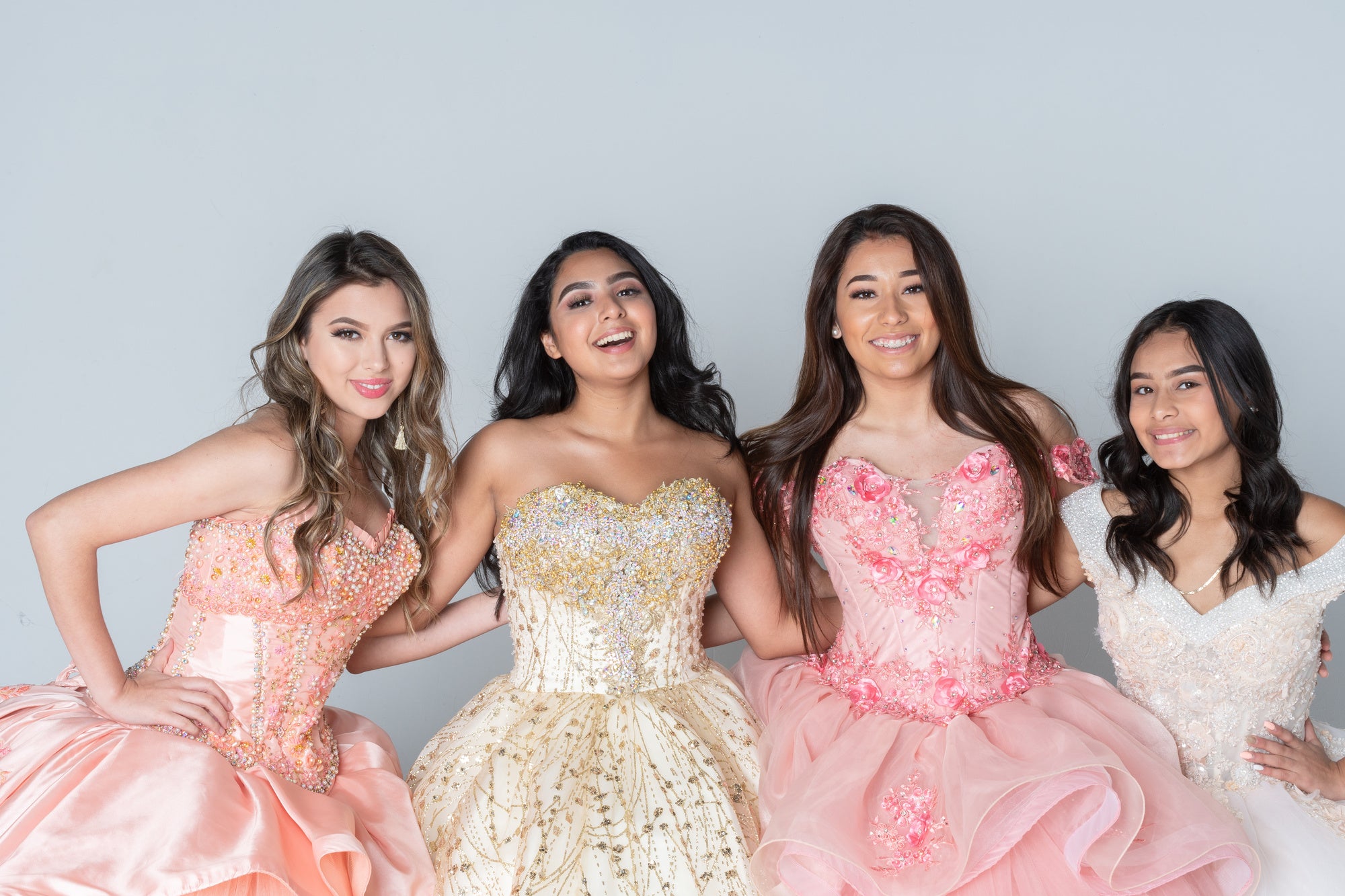 The Ultimate Guide to Custom Quinceañera Dresses
In Mexico, a girl celebrating her 15th birthday will hold a special party, called a quinceañera. This word combines two Spanish words: quince (fifteen) and años (years).
These are usually lavish celebrations, meant to honor the girl's coming of age, or her transition from girlhood into womanhood. 
Are you planning a quinceañera for a soon-to-be 15-year old in your life? If so, then it's important to choose a gown that's special and meaningful to mark the occasion. Instead of searching for the perfect dress off the rack, why not create a custom one that's designed to fit her precise measurements?
Today, we're sharing how this process works and why it's one of the most memorable investments you'll ever make. 
Understanding the Order Timeline
Before you begin designing your custom quinceañera dress, it helps to understand how the production process works.
The overall production time for our custom couture is typically eight weeks. However, we suggest allowing more time to make sure you recieve your dress in time for your big day. If possible, try to place your order between 12 and 14 weeks before the special event. 
​Why should you allow so much lead time? Typically couture gowns take a long time to make as so many intricacies goes into creating one. Imagine each bead, sequin, and applique has to be hand sewn onto your gown to give you that undeniable sparkle.
Also, due to the global pandemic and delays in fabric availabilities and shipping times, it is wiser to order your gown sooner to allow for possible delays.  
The order timeline can also vary based on the season or time of year in which you place your order.  In addition, the order itself could dictate how much time you'll need to allocate. Complex designs naturally take longer to create than simpler ones.  
Choosing the Right Color
Some traditions maintain that a quinceañera dress should be white. In this way, it's meant to look like a traditional wedding dress. However, most quinceañera gowns will not include a long train or a veil. 
In addition to all-white, pastels such as light pink and baby blue are also popular hues. These are light tones that convey innocence and grace, and symbolize purity much like white.
While you're certainly welcome to choose a conventional color for your dress, you may also want to browse options that are a little brighter and bolder. For instance, jewel-toned quinceañera dresses are increasingly popular, in eye-catching shades of ruby red, royal blue, and forest green. 
You can take a look at some of our top dress colors right on our website. Feel free to choose a color that speaks to you and appeals to you. If it flatters your skin tone and you feel comfortable, then you'll also be confident on this monumental occasion. 
Finding a Length
Most quinceañeras are formal, elegant parties that call for longer and fancier ball gowns. A floor-length gown can lend a beautiful element of drama to any look, as evidenced by ensembles like our Buttercup Gown. In this piece, the sequined and beaded bodice sparkles above the yellow ruffle skirt with 3D flowers and embroidered appliqués. 
However, you may want to break with tradition and go a little shorter. In this case, a high-low gown can help you strike the perfect balance. To maintain a degree of modesty, we suggest an option like the Forever Mine Gown. The silhouette is pretty without being too revealing, and features a sequined and embroidered overlay of Chantilly lace. 
If a short gown is more your style, then consider customizing one of our short designs or make one of our floor length designs into a short design that would suit your needs. We can also make you any custom design of your dreams. A beautiful example of a short dress is our Bella Gown. This Dress features exquisite beading and sequines on the bodice and is finished off with an illusion back that you have to see to believe. 
As you choose your perfect length, remember to keep your footwear top of mind. The gown that you choose should allow plenty of room for your shoes to shine! You should also be able to walk comfortably without fear of stepping on loose fabric. 
Picking a Style
There are many different types of dress designs that can work beautifully at a quinceañera. For inspiration that can help you get started, check out our Bella, La Luna, and Bridal collections online. Let's take a look at each one in greater detail. 
Bella Ball Gowns
Our Bella Ball Gowns are truly exquisite. Each one requires between 200 and 500 hours of professional tailoring, beading, and hand embroidery. The layers are sewn and stitched together without the use of any fabric glue, and the fabrics are the highest quality on the market. 
These dresses are ornate and lavishly detailed, and can be designed as one-piece or a skirt and top combination. Start by taking a look at our Radiant Gown, which features a white, hand-beaded bodice and sequined tulle skirt. It also comes with a gorgeously beaded tulle shawl, which you can customize to your exact measurements. 
If you're embracing an all-white look, then this one-of-a-kind gown is a natural pick. If you're leaning toward a romantic, pastel hue, then we also offer several customizable dresses in shades of lavender, blush, and more.
La Luna Collection
Most of our La Luna Gowns are designed with pint-sized partygoers in mind! These dresses would be perfect for any younger children who may be attending a quinceañera. 
Most La Luna styles run as large as a size 14. One example is our Red Velvet Set, which features multiple layers of lace and an overlay of 3D floral tulle. 
Bridal Collection
While you might think that our Bridal Collection is just for upcoming brides, it's filled with designs that could also be stunning at a quinceañera. This is especially the case if you want to stick to an all-white look that's fit for a fairytale!
One of our most popular designs is the Stunner Gown. Expanding upon a classic mermaid silhouette, this dress features champagne-colored lining, topped with three-dimensional floral embroidered lace.
Designing Your Own Style
Any of the gowns in our Bella, La Luna, and Bridal Collections can be transformed into any size, from a child's 2T to an adult plus size. Yet, if you don't see a pre-designed gown that you want made in your size, then you can simply contact our design team to create a custom look that's all your own. We can create any gown in any size, color, or length.
You can also adjust and alter specific elements of our designs. For instance, you may love the Stunner Gown above, but want it without the train that's included. As long as you're clear with your request, we can create it with ease. 
If possible, send a few pictures that include features and styles you love and want to replicate in your own gown. We'll work closely with you throughout the design process to make sure the end result is one that your family will cherish and love for life. 
Find the Perfect Size
Even the most beautiful quinceañera dress will stay in the closet if it doesn't fit just right. That's why sizing is one of the most important parts of ordering a custom design. 
For your convenience, we've shared a comprehensive sizing guide on our site. Here, you can find details on how to take accurate measurements at 15 different points along the body! From the diameter of your neck to the size of your wrist, these calculations might seem intricate, but they're necessary. 
On the same page, you'll also find a chart that maps standard U.S. size numbers to specific bust, hip, and waist measurements. Note that if you are ordering a custom dress, our team will add one inch to the chest and waist circumference on the chart. This allows for a little wiggle room and helps ensure a comfortable fit. 
If you're ordering from a style that's already sized, then we suggest ordering an inch or two larger than your exact measurements. This way, you can move well in the dress. Remember that you can always alter a quinceañera gown that's a little too big, but your options are limited if it's too small. 
Plus, keep in mind that our gowns are designed to fit wearers as they grow. Though you might have a specific occasion (like a quinceañera) in mind, it's always ideal when you can wear a piece more than once. When you invest in a custom gown from Bella Luna Gowns, you can rest assured that you'll get plenty of years out of it before you grow out of it. 
Choose a Designer Wisely
When you're on the search for the perfect quinceañera dress, resist the urge to hop online and place an order with the first shop you find. This is a time when quality and talent matter, and you can't take any shortcuts. 
Take the time to research the company and understand their custom dress design process. Representatives should be eager to share about the materials they use and the techniques they employ. If you receive any type of hesitancy or pushback around these questions, then consider that a red flag and continue your search elsewhere. 
At Bella Luna Gowns, all of our couture dresses are made from scrach with expert tailoring, using high-quality and durable fabrics. These aren't ordinary frocks that you'll wear a few times and then forget about later. Rather, they're spectacular, heirloom dresses that you can hand down through generations. 
From the exquisite handwork to the delicate 3D floral details, you won't find a fully customizable gown that's held to higher standards than ours.
Another reason to choose a reputable and experienced design team? Your gown will retain its value, even amid regular wear. That way, if you do decide to sell it down the road, you can be confident that it will garner a fair and sizable price. 
Add the Right Accessories
Once you have your custom dress design in place, it's time to talk accessories! The right pieces can add instant glam to quinceañera ensemble. 
When you shop at Bella Luna Gowns, you can browse our full accessories collection in just a few clicks. From lace and satin gloves to dazzling hair jewelry, we've got it all. While you don't want to go too heavy on the extra gear, a few strategically placed pieces can draw all eyes to the areas you want to accentuate most.
For instance, are you planning to get a special updo for the party? If so, then why not highlight the stylist's exceptional work with our  Beauty Queen Headband? This gold piece features an array of 3D flowers, petals, beads, and rhinestones and is sure to turn every head. 
To keep all of your jewelry and accessories safe and make sure they last as long as possible, store them in the beautiful storage Gift Box included with your purchase. Remember to take them off when they're not in use. In addition, avoid spraying any type of haircare product or perfume on them, especially if they contain delicate pearls or gemstones. 
Factor in Logistics
Finally, it's important to understand the back-end shipping and distribution details that could affect when your dress arrives at your doorstep. While we've already covered the design timeline, let's talk shipping. 
All gowns, including custom quinceañera dresses, will take between two and five business days to ship within the continental U.S. Each dress will ship directly from the U.S, and exact shipment dates will depend on your geographical location and the method of shipping you select. 
Due to customs regulations, international shipping can take between 14 and 20 business days to complete. As we've mentioned, be sure to allot plenty of time for design and shipping to make sure that your dress will arrive well before the celebration occurs. As each dress is custom-made to fit your exact dimensions, we do not offer refunds or exchanges.
Even though the shippin times provided above are the expected delivery times, we recommend that you order sooner to allow for delays due to the global pandemic.
Feel Beautiful and Confident at Your Quinceañera
If you're celebrating a quinceañera this year, then you deserve to feel as beautiful, confident, and comfortable as ever. A custom-made gown can help you look and feel your best.
What's better than the gown of your dreams, tailored to fit you exactly, with all of your favorite features sewn in? At Bella Luna Gowns, we're proud to offer unmatched service and impeccable quality. Contact us today and let's create something dazzling together.