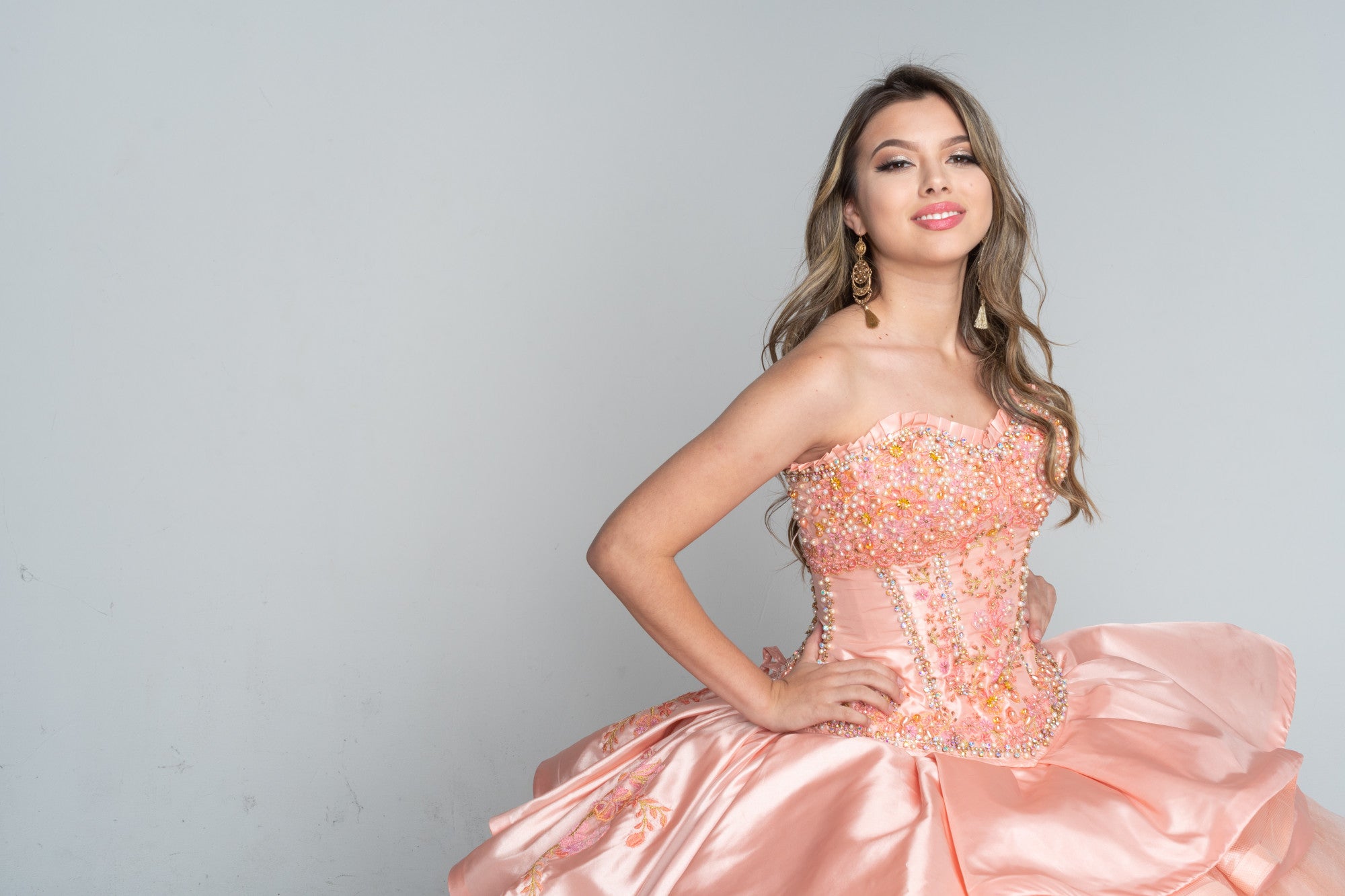 Girls Heirloom Dresses: A Guide on How to Buy Custom Dresses for Girls
An heirloom dress is a multi-generational timepiece. It's an exquisitely made piece of attire that's handed down from one girl to another, growing in value and sentiment with each passing year. 
When you're ready to add such a piece to your collection, an off-the-rack gown simply won't do. You need a custom dress that's designed to the wearer's specific measurements, crafted to fit like a glove and flatter with every movement. 
Today, we're sharing the ultimate guide to girls heirloom dresses, including how to find the best one, features to look for, and more. 
Why Invest in a Custom Heirloom Dress?
Gone are the days when fast fashion reigned supreme.
Today, conscious shoppers are more interested in creating capsule wardrobes that are designed to stand the test of time. While these collections will include fewer pieces, each item is carefully built and intentionally designed. They feature premium-quality materials and accessories that will last much longer than any attire you can find in a department store or big-box shopping center. 
This includes custom dresses that are more like works of art than articles of clothing, such as the ones you'll find in our online collections. Each dress from Bella Luna Gowns features gorgeous, one-of-a-kind touches, such as:
200 to 500 hours of expert tailoring
Exquisite beading
Fine fabrics
Hand embroidery
Resistance to tears and wrinkles
Unlimited customization
When you invest in one, you instantly become part of something bigger. These dresses aren't just made for the moment, but every special moment to come.
A few of the reasons why it's smart to choose a custom-designed heirloom dress include:
Gorgeous silhouettes that will always flatter
Styles that will be on-trend even years from now
Durable, solid materials that won't wear out 
Special keepsakes that will transcend time and fads
In short, this is a purchase that creates a lasting memory. Heirloom dresses don't just sit unworn in a closet for years, collecting dust. They're also not worn so frequently that you have to worry about the materials degrading over time. 
Rather, they're elegant enough to elevate any special occasion, and you'll find yourself (or the beautiful girl in your life) reaching for them time and time again. 
How to Order Girls Heirloom Dresses: A Step-by-Step Guide
When buying heirloom dresses for girls, we want to make sure you absolutely fall in love with the end result. By following a simple process, you can rest assured that the gown you receive won't just meet your expectations but endlessly exceed them.
Let's take a look at a few of the steps to follow when you're ready to begin the ordering process. 
Step 1: Find a Style You Love
When you order a gown from Bella Luna Gowns, you have one of two options. You can either purchase a ready-made dress in your size, or you can create a custom order. 
Either way, you're destined to find a truly beautiful gown that fits your personal style aesthetic and accentuates your best features. 
All of our gowns are hand-tailored and hand-embroidered. In addition, we offer many collections that include fully customizable dresses. This means we can make the gown in any size you need, from a child's measurements to an adult's.
To start the browsing process, take a look at the dresses in each of our four collections. These include:
Bella Collection
La Luna Collection
Bridal Collection 
First Communion Collection
Each collection features a slightly different look, designed to offer a wide variety of choices for everyone to browse. Here's a brief overview of what you can expect with each one. 
Bella Collection
Our Bella Gowns are designated as our "Ultimate Princess Gowns" because they feature full-bodied, multi-layered skirts and form-fitting bodices. These are genuine couture, and every individual layer is sewn and stitched, without any glue in sight. 
For inspiration, take a look at our aptly-named Princess Gown. The skirt features a stunning Chantilly lace overlay, accented with embroidered sequins, 3D flowers, beads, and rhinestones. The bodice showcases a modest sweetheart neckline, embellished with pearls and crystal beads. 
La Luna Collection
"Luna" means moon in Spanish, so it's only fitting that we dedicated this collection to the "Little Stars" in our families. Designed for the most pint-sized princesses, these gowns are sweet, whimsical, and pure magic. 
Check out our Sweetie Gown, for instance. Made in the most delicate shade of blush pink, it features a base layer of rose-colored tulle, overlayed with embroidered lace, 3D flowers, and pearls. It's the ideal gown for a special ceremony, tea party, or celebration!
Bridal Collection
As the name implies, our Bridal Collection is filled with gorgeous gowns fitting for the most high-style brides. If you're engaged, then you might be eyeing off-the-rack gowns by well-known brands. While there's nothing wrong with going this route, you could wind up investing a significant amount of money in a dress that you'll need to get altered and customized anyway. 
Instead of sinking extra money into that endeavor, why not buy a custom gown from the very beginning? Our unique gowns radiate beauty and feature beautiful hand-beading that you can't find anywhere else. In this collection, our Romance Gown is a customer favorite.
This gown features a sheer bodice, 3D floral lace, and intricate pearl accents. The standout touch is the flowing chiffon skirt, which adds a degree of elegance to the overall look. 
Another great aspect of this collection is that we didn't just design it with the bride in mind! We also offer heirloom flower girl dresses, such as our Snow Drop in Champagne Gown!
First Communion Collection
Finally, we also offer dazzling custom gowns that look beautiful for any type of special ceremony. Our First Communion collection is filled with dresses that are elegant and formal without looking stuffy or outdated. 
These are more than formal dresses. They are luxury gowns that you'll preserve and keep long after your little princess has grown up. Our Snow White Gown is a shining example. This dress features exceptional touches, including sequins, crystal-beaded and embroidered lace appliqués, 3D blossoms, and more. 
It also comes with a corset-style back that allows for a perfect fit, every time, as well as a 20-inch train. 
Step 2: Choose a Color
We can create any dress, in any style or color you prefer. Did you fall in love with one gown, but wish you could have it in a different hue? Just let us know and we're more than happy to work with you.
To make the shopping process as simple as possible, we allow you to browse our full collection by color. Do you want to be pretty in pink? If so, take a look at our wide range of pink gowns!
Going for a look that's a little bolder and more dramatic? If so, then a darker-hued gown might be more your style. We offer lots of black and gray gowns that are perfect for any formal occasion.  
When trying to decide on a color, there are a few routes you can take. If you're ordering an heirloom dress specifically for a certain occasion, then think about the vibe of the event, the decor at the location, and the dress code (if there is one). For instance, a quinceanera deserves a bright, bold, and happy gown, while a flower girl dress may be a little more neutral-toned.  
Step 3: Plan Your Order Time
Are you thinking about ordering a custom Bella Luna Gown for a special upcoming occasion? If so, then it's important to get your order in on time. Our standard turnaround time is eight weeks, but that can vary greatly depending on the type of dress you order, as well as the current season. 
To be absolutely sure that you'll receive your dress on time, we recommend placing the order at least 12 to 14 weeks in advance. This will give our team plenty of time to create and ship your hand-tailored dress to your doorstep.
Step 3: Find Your Size
All of our dresses are custom-made to your exact measurements to ensure the best fit. When you've found a dress in a style and collection that you love, then it's time to make sure it fits you just right!
We offer a comprehensive Sizing Guide on our website to help you get started. When choosing a size for your heirloom dress, we suggest sizing one to two inches larger than your exact measurements. This way, you will have room to breathe and move, helping you stay comfortable the entire time. 
If you submit custom measurements with your order, we'll go ahead and account for that wiggle room. We'll add one inch to your chest measurement, as well as one inch to your waist circumference. 
At the bottom of the Sizing Guide, you'll find a template of our Measurement Form. When you fill this out, we'll know exactly how to create your dress. There are many different measurements to take, and it's important to complete the form in its entirety to get a truly bespoke fit. 
One note to remember: Make sure to complete the measurements in either inches or centimeters, but not both. This keeps everything consistent. It's best to ask someone else to take the measurements for you.
Our One-on-One Design Process
We know that ordering an heirloom dress is a big step. That's why our design team is here to help you every step of the way. Whether you know the exact gown you want, or you're not sure where to start, reach out to us. Here are the steps you can expect. 
Collaborative Inspiration
If you have a dream gown in mind, we want to know about it! Email us pictures of looks that you adore, and we'll help you recreate them! This might mean altering a dress from one of our collections or creating a new one entirely from scratch. 
Either way, we're here to help turn your dreams into a reality, one stitch at a time. 
Consultation
Once we hear from you, a member of our design team will reach out to you for a brief consultation. We'll listen to your design vision, learn about your goals, and take note of any special requirements. This meeting allows us to closely understand the details and specifications of your heirloom dress.
Measurements
During that conversation, we'll answer any questions you might have about taking measurements for your gown. We'll also direct you to our Measurement Form and explain how to complete it. 
Price Quote
With all of the measurements and details in place, we can get to work creating a custom price quote for your order. The final amount you receive will include all of the work required to create your one-of-a-kind heirloom dress. You don't have to worry about being surprised by any extra or hidden fees. 
We won't begin work until you've agreed to the price quote, and we'll notify you when we send it.
Dress Production
Next, it's time for the fun to begin! Our designers will work intently on your gown until it's polished to perfection. If we have any questions along the way, we'll reach out to you. 
Shipping
Finally, we'll securely ship your dress right to your home! The shipping process within the continental U.S. can take two to five business days to complete. If you're placing an international order, the process usually takes between 14 and 20 business days depending on the shipping location and any special customs regulations. 
Shop Our Collection of Girls Heirloom Dresses Today
From their first crafts to their graduation tassel, there are certain childhood keepsakes that you'll always cherish. As they grow, these mementos become more special.
Girls heirloom dresses are pieces that you'll look upon with equal adoration. These gorgeously crafted gowns help them look as beautiful and elegant as they feel. 
Instead of buying fast-fashion dresses that will quickly wear out and lose their appeal, invest in a dress that will become a prized mainstay in her closet collection.
Feel free to shop all of our collections today, and let us know if you have any questions.